Conor Oberst
When:
October 5, 2016 @ 7:00 pm
2016-10-05T19:00:00-06:00
2016-10-05T01:15:00-06:00
Where:
The Bridge at Santa Fe Brewing
37 Fire Pl
Santa Fe, NM 87508
USA

Cost:
$28 in advance ($33 day of show)
Though only 36, Conor Oberst [web site | Amazon.com] has been a recording artist for more than two decades, starting with raw, acoustic guitar-based bedroom tracks he cut as a young teenager and initially released on cassette. After his early Omaha-based band Commander Venus broke up, Oberst recast himself as Bright Eyes, an umbrella name for Oberst, producer-keyboardist Mike Mogis and multi-instrumentalist/arranger Nathaniel Wolcott, and a shifting group of collaborators. By the time he released Lifted or The Story is in the Soil, Keep Your Ear to the Ground on Saddle Creek, the label he helped found with friends in Omaha, Oberst was a word-of-mouth success, with an avid young audience that helped to sell out his tours. The critics soon followed. Rolling Stone called him "a true American original: the ghost of Walt Whitman setting up shop in the wraith-white, rail-thin frame of an acoustic-strumming Nebraska Cure fan." The 2005 simultaneous release of two markedly different Bright Eyes albums—the more singer-songwriter-oriented I'm Wide Awake, It's Morning and the darker, computerized Digital Ash in a Digital Urn—displayed the breadth of his talent. Time magazine listed I'm Wide Awake among its top 10 albums of the year. Since then, Bright Eyes has continued to evolve, its lineup morphing with each successive tour. While supporting his 2007 Cassadaga album, Oberst took over New York City's Town Hall for a week of sold-out shows, with his large, string-augmented ensemble outfitted spectacularly in white suits. He's also recorded and toured with Mogis, Jim James, and M. Ward as Monsters of Folk as well as with his own Mystic Valley Band.
"I feel lucky that I have been able to do this for as longs as I have," declares Oberst. "I've seen so many talented friends come and go, for a lot of different reasons. Sometimes they stop making music because they can't pay the bills or they lose the passion for it. At this point it is my life. I don't know another way to live. There is something fundamental in myself; I have to be this way. It completes what I am."
2014's Upside Down Mountain, says Oberst, stands in deliberate contrast to the harder-edged, hypnotically electronic material on 2011's The People's Key, his previous album with Bright Eyes, or the thrashing social commentary of side-project Desaparecidos, whose acclaimed Payola was released in 2015: "I'm always reacting to what I did most recently. The songs I had been working on before this, for the last Bright Eyes record, they were personal to me and had come from elements of my life, but I wanted them to be bigger, cryptic, coded, to find words I hadn't found in songs before. And working on the Desaparecidos stuff, it's such a specific project and demands a more topical approach. It's made with that purpose in mind."
In September, Bright Eyes will release a new box set, collecting six of their records from the 2000s: The Studio Albums 2000-2011. The Studio Albums includes 2000's Fevers and Mirrors, 2002's Lifted or The Story Is in the Soil, Keep Your Ear to the Ground, 2005's I'm Wide Awake, It's Morning and Digital Ash in a Digital Urn, 2007's Cassadaga, and their most recent LP, The People's Key (2011). The new remastered records will be available individually in November via Saddle Creek.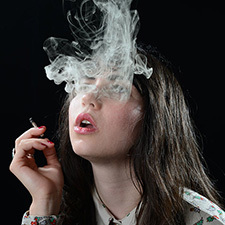 An L.A. native, Pearl Charles embodied California rock and roll cool even before she took her natural position as a figure in the local music scene (and beyond). Pearl started logging miles on the road with her first band, old-timey Americana duo The Driftwood Singers, at age 18, followed by a lengthy stint drumming and singing in garage-pop band, The Blank Tapes. The Blank Tapes toured extensively and earned accolades from Rolling Stone and The New Yorker for their sunny lo-fi surf rock. Along the way, Pearl collaborated with artists such as Jonathan Wilson, Stephen McBean (Black Mountain), Farmer Dave Scher (Beachwood Sparks) and Johnathan Rice and toured extensively internationally, supporting diverse artists such as Father John Misty, Matt Costa, Thee Oh Sees, Kim Deal, The Growlers, Allah Las and Mystic Braves, to name a few, as well as earning a BFA in Music from CalArts.
Though she draws inspiration from the legendary scenes of the 60's and 70's, from Laurel Canyon to The Factory, from Haight-Ashbury to Muscle Shoals, she also counts contemporary artists amongst her influences such as Tame Impala, Mac DeMarco, Sharon Van Etten and Jenny Lewis, to name a few. Pearl Charles writes and sings songs with a distinctly unique voice, creating a sound that is both timeless yet undeniably here, now.